Jeroen van Splunder - PRAESES | President
Jeroen is the current chairman of Marum Bibio, or the face of the association. Jeroen is responsible for keeping the association running. If there are any questions or if anything is unclear, you can always contact him. Jeroen himself is a maritime officer and is also active in this. Jeroen is also the proud owner of the famous "ransbak" where he tears around Vlissingen to replenish the beer stock when necessary. Jeroen himself also likes to play guitar, but whether he can do something with it? You have to judge that for yourself!
Tijmen Ketting - QUAESTOR | Accountant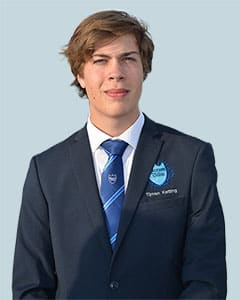 Tijmen Ketting is Marum Bibio's treasurer. As treasurer, Tijmen ensures that the money matters, such as the money for our sunset cruise, bites & steps and the intake camp are in order. This way we will never run out of money and we can ensure that our members get the activities and parties they deserve! Tijmen is the former chairman, but could not let go of Marum and the board yet. Tijmen's down-to-earth view of life creates a relaxed atmosphere within the association. For him, having fun is paramount! Apart from his role as treasurer, Tijmen likes to fish and swim while watching the sunset. Tijmen is currently studying Aquatic Ecotechnology, with which he will later study fish that he has been catching for years.
Naomi Polfliet - AB ACTIS | Secretary
Hi, my name is Naomi. In my daily life I teach and study PABO. Through my experiences with pre-schoolers I have learned all kinds of tricks to keep our members as enthusiastic and active as possible. I am always in for some socializing, whether in the form of having a nice meal together, having a drink in the club or playing games (with or without drinks 😉). I am also very creative and I also like to use this within the walls of our association, I have already made decorations for a theme party, I write and draw everything on the mirrors of 'de Fles' and I even made a whole light board with Marum Bibio on it. In this way I keep our association fun and creative.